With over twenty-five years of experience, our expertise allows you to benefit from a wide range of perspectives for your products : extrusion, printing, bagging.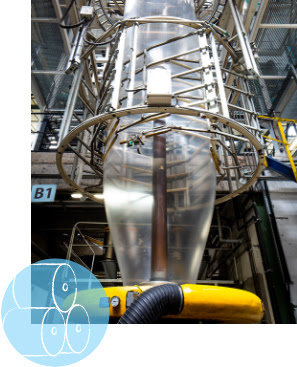 With over 25 years of experience in the extrusion industry, we have acquired proven expertise that enables us to offer a wide range of increasingly innovative products. Our products are made from a single raw material : polyethylene. This material is one of the most widely used polymers because of its many properties and advantages : strength, impact and scratch-resistance, chemical inertness and non-toxic for food use, corrosion and oxidation resistance, electrical insulation, ease of handling and processing, and above all, 100% recyclability.
As this polyethylene comes in different forms and can be treated with different additives (anti-UV, anti-static, slippery, etc.), we can offer the best possible formulation to meet your needs. To do this, we rely in particular on our laboratory (testing of new materials, sample countertyping, property measurements, etc.).
The entire production, which amounts to 24,000 tonnes per year, is carried out continuously at two production sites. Both sites are equipped with high-performance extruders and co-extruders that are continuously updated as a result of a substantial investment policy.
tons extruded films per year
tons printed films per year